WORKER'S COMPENSATION INSURANCE FOR THE FIREARM INDUSTRY
Get the quality coverage you need by partnering with underwriters who are experts on the firearms and shooting sports industry.
GET A FREE QUOTE Today
Get an initial quote in less than 5 minutes . Enter your email below, or call us at
833-763-4248.
Available in all states except: AK, DC, DE, HI, ND, OH, MA, WA & WY.
Unlock the Protection and Coverage Every Responsible Firearms Instructor Needs
EXCLUSIVE TOP-RATED CARRIER PARTNER
Superior service
Competitive rates
STRAIGHT-FORWARD
PRICING
Flexible payment plans
Premiums starting as low as $1,000
CUSTOMIZABLE
SERVICES
Customized loss control & safety programs
Tailored policies for your business
Get Your Premium Indication in Under 5 Minutes
How It Works
SUBMIT YOUR QUICK QUOTE – Take just 5 minutes to submit the information needed for a quick quote.
GET YOUR PREMIUM INDICATION – We'll work with SAGE, our underwriting partner, to give you a premium indication. You could save thousands on your worker's compensation insurance costs.
COMPLETE THE APPLICATION – Based on your premium indication, complete the application to get your official worker's compensation quote.
OPERATE WITH CONFIDENCE – Once your policy is approved and you have completed your purchase, you'll have a leg up on your competition.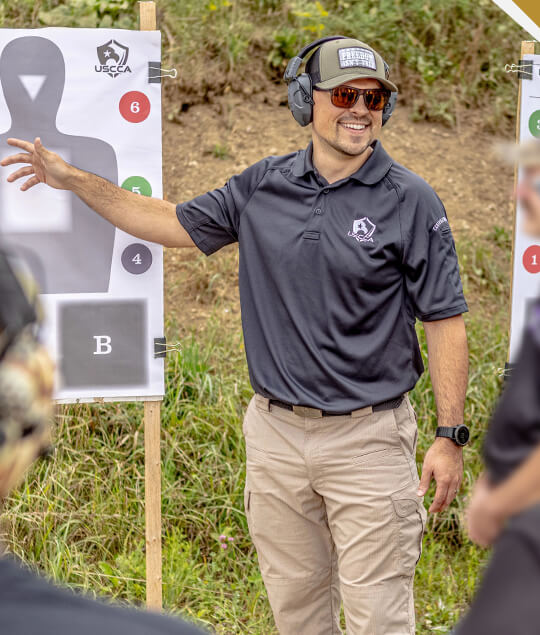 As the leading worker's compensation provider for the shooting sports industry, SAGE brings over 65 years of unmatched underwriting expertise and creative insurance solutions. SAGE works with hundreds of ranges, retailers, and manufacturers to control and lower worker's compensation costs.
Worker's Compensation Insurance for the Firearms and Shooting Sports Industry
Indoor & Outdoor Ranges
Public & Private Ranges
Trap & Skeet
Sporting Clays & Five Stand
Retail Gun Stores
Firearms and Ammunition Manufacturing
And more!
GET A QUOTE TODAY
Get your initial quote in 5 minutes or less. Start your worker's compensation insurance quote by entering your email below, or give us a call at 833-763-4248.
CONTACT US
TODAY
Our American-based support team is happy to answer any questions you have. They'll even help you choose the policy that's right for you. Call us at 833-763-4248 or email [email protected]
Our support team is here to assist you Monday – Friday, 8 am – 9 pm,
and Saturday, 8 am – 4:30 pm Central Time.